Don't you love how videos allow us to travel to different destinations around the world without having to worry about packing or paying for an airplane ticket?
What is Hopper World?
Hopper World is our first Destination, the brand new website of MuchoHop! I'm so excited about this project because now we have a more personal platform to communicate with each other. I intend to show you different aspects of travel, not just in video form, and hopefully this can be a place where you can get your questions answered.
Who runs Hopper World?
Basically, YOU, my Hoppers. But, let me introduce myself. My name is Ana and I am MuchoHop. I'm a 4th generation Hopper!! Yes, my parents, grandparents, and great-grandparents, on BOTH sides of the family, already traveled from Spain to diverse places around the world. You would say, I have it in my genes, LOL!
On the About page, under Bio, I tell you why I've had to travel all my life, something many of you have asked me. In the videos, I'm always running through an airport, so I rarely get a chance to talk about things other than boarding passes, getting through security, or finding my gate. I think you'll get a better picture of who I am.
What can we find in Hopper World?
It's a place where you can access TRAVEL content using different approaches. It can be through storytelling; you can get a glimpse of memorable trips, some good, some not so good! I've been traveling since I was 5 so I have many stories to tell. There is a Photo Gallery where I share these trips and hopefully you'll get ideas for your future travels.
On the Content page, I talk about Destinations that have left a lasting impression and any Travel Tips I've learned along the way so you won't make the same mistakes I've made in the past. I also include your Frequently Asked Questions (FAQ), as some questions come up over and over again.
A Shop in Hopper World?
Yes, a Shop, where you can get exclusive MuchoHop travel-inspired t-shirt designs in MH Merch or download freebies, digital courses, or sign up to Private Travel Coaching with MuchoHop in Hopper World Academy. It felt natural to offer digital courses as I've been teaching for many years. I always taught in a classroom setting or privately but the pandemic and technology have given us new digital options.
Hopper World Academy is brand new and I'm sure you'll find bugs on the page, so in compensation for you being my Guinea pigs, I will be offering HUGE DISCOUNTS for the first students who sign up for the online courses.
How can I contact Hopper World?
We have a Contact page where you can let me know what aspects of travel you are having trouble with. But if you prefer to speak to me one-on-one via Zoom, I will be available for Personal Travel Coaching, if you have a travel-related inquiry.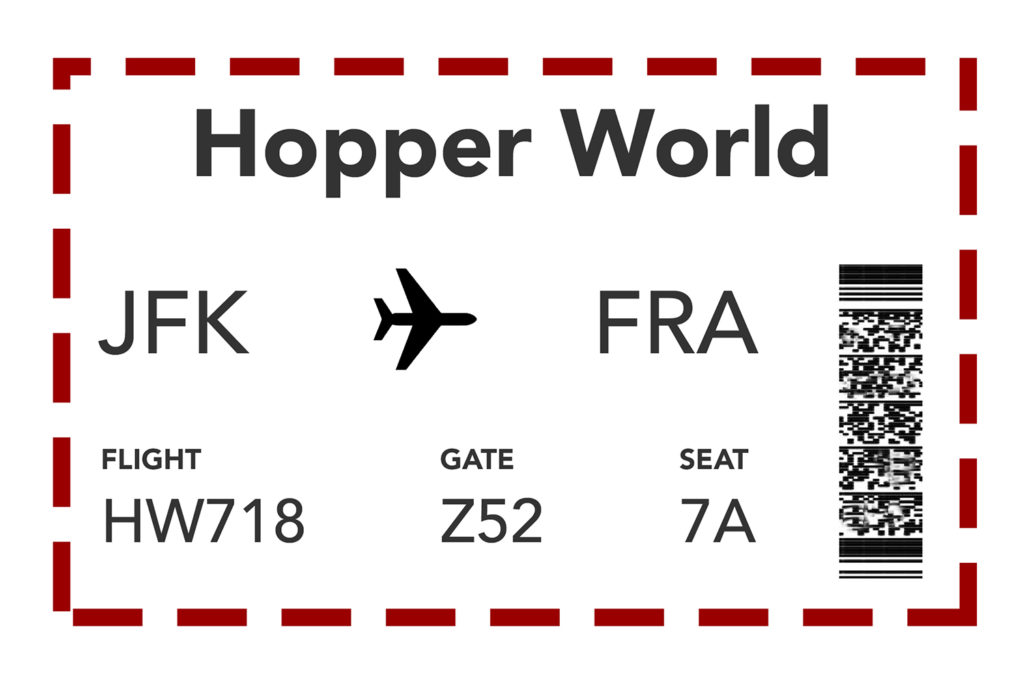 I hope you enjoy surfing through this website. To thank you for your visit, when you sign up to Hopper World, I will send you a "Boarding Pass" that is totally FREE and includes a CHECKLIST you can use the next time you board an airplane.
As some countries are opening up for travel right now others are still struggling with the COVID pandemic. I hope my channels and website will be an escape for you and your means to the information necessary to be ready for when finally we can all travel freely and the pandemic will be a thing of the past!
Oh, I remind you that Hopper World comes in two languages!! Here is your chance to practice your Spanish and English!
In English: www.muchohop.com
In Spanish: www.muchohop.com/es
Thank you, Hoppers, and please stay safe! Ana – MuchoHop